Basque Country Culture
2011-12-23
The 100 marches: The long awaited return of the legendary bar at the top of the Basque coast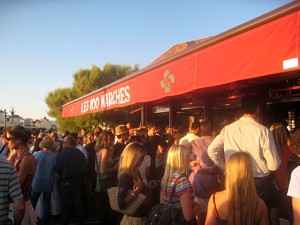 Located on the square Jean-Baptiste Lassalle overlooking the mythical beach of the Basque coast in Biarritz, the famous guinguette formerly called "the 100 steps" was dismounted Tuesday, February 18, under the look of some sorry nostalgic for this little cabin in wood.
However, this summer 2014 the famous biarrot landmark for trendy night owls and sunset lovers resumes service under the name of Etxola Bibi (the little wooden hut).
Open since the beginning of July, the bar announces the color: red and white course, rosé too, bocadillos, salads and every Thursday sushi night. At Etxola Bibi, the concept is simple, a hut to house a bar generously stocked, tables to gather with friends around a few tapas, stools arranged everywhere giving the lucky ones a place of choice in the first row to admire the ballet of surfers and waves orchestrated very closely by the iconic villa Belza.
Good mood, sangria and surfboards are waiting for you, do not hesitate!